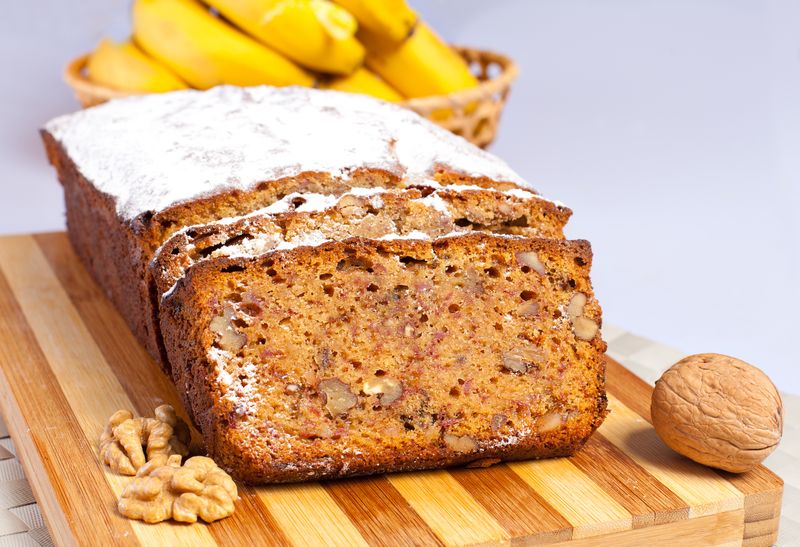 I love bananas. I love to eat them, I love to cook with them and I love to make banana bread. I have tried many different recipes for banana bread but this one has always been my favorite. It is simple, it tastes great and it's quick and easy to make. You can add in any kind of fruit you like, or leave it plain. This is the best banana bread recipe I have ever found.
Ingredients:
2 cups all purpose flour
1/2 cup sugar
1 tsp baking powder
1 tsp baking soda
1/2 tsp salt
3 eggs
1 cup milk
1 1/2 tsp vanilla extract
1/2 cup oil
1/2 cup mashed banana
1 cup chopped nuts (optional)
Directions:
Preheat oven to 350 degrees F. Grease a 9 x 5 loaf pan. Mix together the flour, sugar, baking powder, baking soda and salt. Beat the eggs, milk and vanilla together. Stir in the banana and oil. Add the dry ingredients and stir until just combined. Stir in the nuts if using. Pour into prepared pan and bake for 50-60 minutes or until a knife inserted in the middle comes out clean. Cool on a wire rack for 10 minutes before removing from pan.
The secret to this recipe is to use the right amount of baking powder. If you don't have a lot of baking powder, use 2 teaspoons instead. If you want a sweeter banana bread, add some more sugar. And if you want it to be lighter, try adding some more flour. This is a very forgiving recipe so you can adjust it to suit your taste.
You can also experiment with different fruits. Try adding raisins, blueberries, strawberries or whatever you like. If you are looking for a healthier alternative, try substituting some of the flour with whole wheat flour.